ALL PRODUCTS
SALE
MIOPS Smart+ | World's First Smart Camera Trigger
$199.00
$299.00
saving

$100.00
Take almost impossible photos by turning your camera into a high-speed capture device! MIOPS Smart Trigger is a versatile camera trigger in a single unit and provides advanced triggering modes ...
NEW Splash - Water Drop Kit
$119.00
$199.00
saving

$80.00
NEW SPLASH WATER DROP KIT controls every drop and your equipment with a great precision. World's first smartphone controllable and standalone water drop kit designed to deliver the perfect water...
SALE
Camera Cable
Connect your MIOPS Smart, Mobile Remote or Mobile Dongle to your camera with this camera cable. The camera cables come in 10 different types and support hundreds of different cameras. 1 meter length, spring cable, 2.5 mm connector on MIOPS end.
Extension Cable
Place your MIOPS Smart, MIOPS Mobile Remote, MIOPS Mobile Dongle and MIOPS Splash 2 meters away from your camera. 2 meters length, flat cable with 2.5mm male to 2.5mm female connectors.
Spare Battery for Smart+ and Flex Bolt
Keep your MIOPS Smart+ and Flex Bolt ready even during long days with this spare BL-5C Li-Ion Battery. It has a 1020mAh capacity and 3.7V output and will charge in about 4 hours from 0 to 100%. Lithium-Ion, 1020 mAh capacity, 3.7 V Output voltage.
Flash Adapter
SOLD OUT
Trigger your flash by using Flash Adapter Kit and 1-meter long connection cable with your MIOPS. The Flash Adapter can communicate with your flash via the PC sync or 3.5mm connection. The adapter also features a standard hot shoe on the top for at...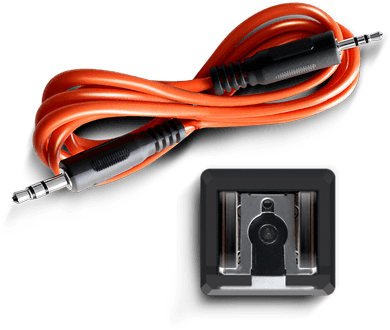 MIOPS Turntable
Imagine you need to take the 360° photos of an item. Capsule360 turns the whole process into a few touches on your smartphone. Just tell Capsule360 how many pictures you want to take. Capsule360...
MIOPS L-Bracket PRO
MIOPS L-Bracket allows you to create Tilt moves by using Capsule PRO.  Box Includes:1 x L-Bracket  Compatible with Capsule PRO only.
SALE
FLEX Bolt Trigger
$99.00
$199.00
saving

$100.00
Capture the power and beauty of lightning like never before with FLEX Bolt. FLEX Bolt is the perfect tool for both day and night lightning shots, and its reliable and easy operation makes it ideal for both amateur and professional photogra...
MIOPS Smartphone Holder
Mobile phone clip size: 58mm- 101mm, international standard screws 1/4 interface 360 degree rotating phone holder for portrait mode (vertical) or landscape mode (horizontal) Hold any smartphone steadily with or with out a case (tripod) The screw ...
Choosing a selection results in a full page refresh.